Our Key Dates
1987: Foundation of PARIMAR BROKERS by Gérard HIRGOROM under the name of PARIS MAR. At the origin, the company was hosting the S&P clients of the famous Parisian brokerage house PARIS MARITIME established in the fifties.
1993: Takeover of FRANCHARTE a famous shipbroker established by Francis GRIEDER in 1966 to serve the liner and reefer markets as Chartering Shipbroker. Relocation to 94, rue St-Lazare in the heart of Paris Opera District.
2006: Change of Ownership following the buyout of the founder's shares by Cyril JARNET
2011: Relocation to new effective premises in the lovely town of Saint-Germain-en-Laye, 20 km west from Paris
2016: New commercial brand PARIMAR BROKERS.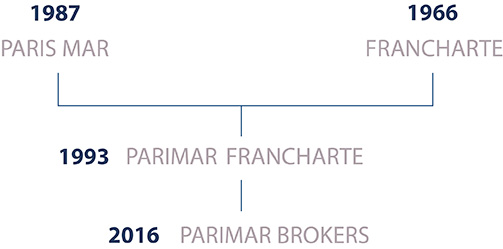 Our skills
Experience in all kind of shipbroking
Leader in Passenger and RoRo broking
Sophisticated and taylor-made transactions
Dedicated to customer relationship.
High level of service quality from A to Z
Our philosophy
INDEPENDENCE: We have always remained independent from all the shipping companies and only owned by its partners.
TRUST: let shipping remain an industry where verbal agreement is binding as signed contracts.
CONFIDENTIALITY: Apart from brokerage service, we intend to propose high reliability and confidentiality to our clients.
CLIENTS' INTEREST FIRST : our size is the best guarantee against any conflict of interest that may happen when using with large brokerage shops.We are not "decision-makers" ourselves but just there to render the best assistance to our clients' shipping transaction.
LONG TERM RELATIONSHIP
Our tools
Important investment in IT in order that the information, our raw material, may be used by our clients.
Dedicated integrated software for the shipping industry based upon the LR-Fairplay Database (more than 20000 entries updated every day).
Own database of sales status and position
An international network of 2500 correspondents worldwide.